Air Compressor Installation
Installing a compressor is rarely just a case of delivering the new compressor to site and connecting the compressor to your power supply and local pipework system. There are normally other modifications or other new installations required at the same time.
Frequently these will be modifications to existing pipework or new pipework installs, sometimes they may involve other plant movements in the compressor house. Or they may require installation of new controllers or control systems.
Quite often the compressor will be located in the roof of the building requiring specialist equipment to lift the compressor into place. We have come across all of these situations (and many more!) and we have the experience, tools and knowledge to work out the best approach, with the aim of minimising costs and downtime for you.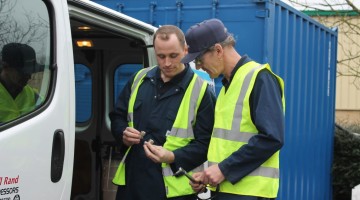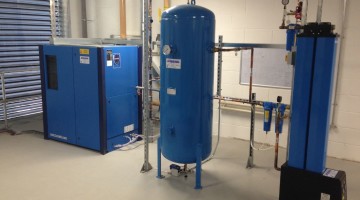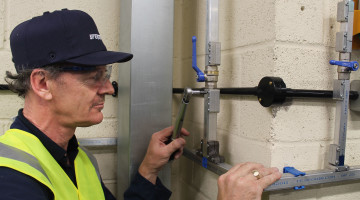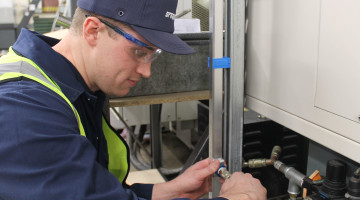 'We are the compressed air experts so you don't need to be'
Established in 1981 Air Equipment has been servicing customers air compressors for over 30 years. 'We have a reputation for providing high quality, reliable and knowledgeable service to our customers' says Ian Billington, Managing Director of Air Equipment. 'We have an extremely high level of loyalty from our customers, in fact we have many customers that have been with us for over 30 years. They like our technical expertise and our honest, straight forward approach with customers, providing a quality service year on year. We have always focused on the long term. Our aim is to work with customers over the life of their compressor system, helping them optimise their system as their business changes and grows. Our focus is on minimising the overall costs over the life of their system.
With the changes in Health and Safety, and the drive for cleaner technologies and waste management, we have put great emphasis on developing Air Equipment to meet the requirements of our customers. This means we are in a position to support our customers no matter what quality systems they require us to work to.
Fixed speed, variable speed and oil free Compressors
Compressor technology has evolved considerably over the past 20 years. Compressors today are more efficient, cleaner and better controlled than ever before. These developments are all designed to help customers save money through energy savings, whilst still providing the necessary compressed air, critical for their production needs.